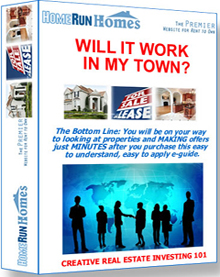 Are You a "Real Estate Investor"?








Welcome to Real Estate Investing "101"...
You've been E-mailing us and asking us about this one for a long time.
We apologize that this has taken so long
...and it's finally here !

From the name that you know and trust as the leader in Rent to Own Homes since 2002
We present to you the Creative Real Estate Investing Guide on how to begin closing deals…
…and EXPLODING your Real Estate investing business...TODAY !!

"Will it Work in My Town?"...
Here's Some of What You'll Learn & Experience:
1. A full analysis of Rent to Own/Lease Option deals from all perspectives
(from the investor and the homeowner points of view to, "get into their heads")
2. Includes 4 very valuable "SECRETS" of Rent to Own.
3. Includes a section on "HOW TO FIND DEALS" and make them happen!
4. Includes helpful Hints, Secrets, and Strategies....
5. Included a powerful section on "Setting Goals" (How to mentally prepare for the business)
(Click here for the "Actual Table of Contents")

MULTIPLE ADDED BONUSES INCLUDED !
* Tons of FREE websites to help you evaluate home prices, calculate mortgages, etc.
* Learn what You're NOT finding out in the Real Estate Forums !


The "Golden Rule" of Real Estate Investing
You will NEVER make it in the Real Estate Investing business if you do NOT
make offers on properties !

"Will it Work in My Town?" will hold your hand and lead you forward...
We have even included the Forms needed to DO Lease/Option (RENT TO OWN) deals !*
CAN IT GET ANY EASIER THAN THIS !?

So how much does this cost?
We are proud to say ONLY $9.99 ! Yes...$9.99 !
Those "other" companies charge you $1,000 upfront to teach you exactly what we do here...!!

The Bottom Line...
In just MINUTES after you purchase this easy to understand, easy to apply e-guide….
You will be on your way to Looking at Properties and MAKING offers !
Order Your Copy Today...
and Start Investing Tomorrow !